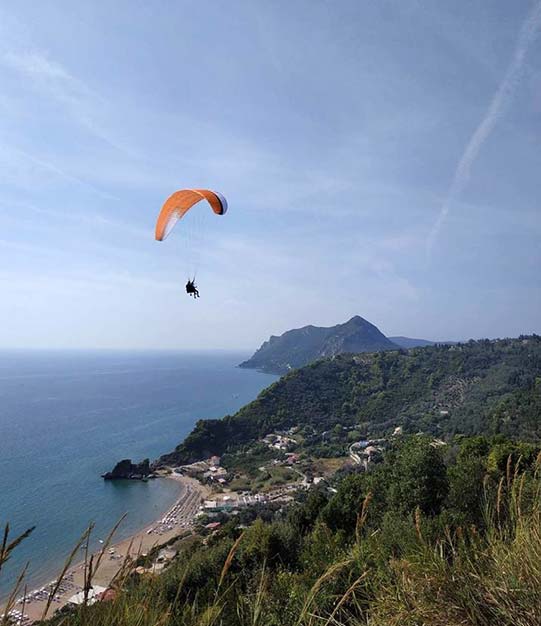 TANDEM FLIGHTS
IN CORFU
Paragliding in Corfu
---
Fly with the pioneer of paragliding in Corfu-Greece, exclusively. Away from the crowds, one of the most unique locations to experience the thrill of a lifetime paragliding adventure! Fly with us in the Thermals, taken on photo or video with gopro camera, and soar above the ionian sea and it's amazing beaches glifada and kontogialos.
We offer easy introductory tandem flights for first time flyers. Probably the best part of your holidays. No training is needed as the professional and well experienced competition pilot can take you on a paragliding-tandem flight leaving you free to enjoy the scenery of green mountains yellow sandy beaches and watch Corfu from above!!
---
PARATRIKE FLIGHTS
IN CORFU
Paragliding in Corfu
---
Paratrike is a two seated motorized paraglider on wheels which allows very easy take off and landing. The paseenger doesnt require to do anything just sit and enjoy the most stanning view of Corfu.
We fly mostly with the paratrike in the morning from 8:00-13:00 and sunset flights from 18:00 until 21:00 the flight duration is around 25min and altitude about 700 meters.
The flight route is on the west coast of Corfu over kontogialos beach pelekas town and glifada beach!!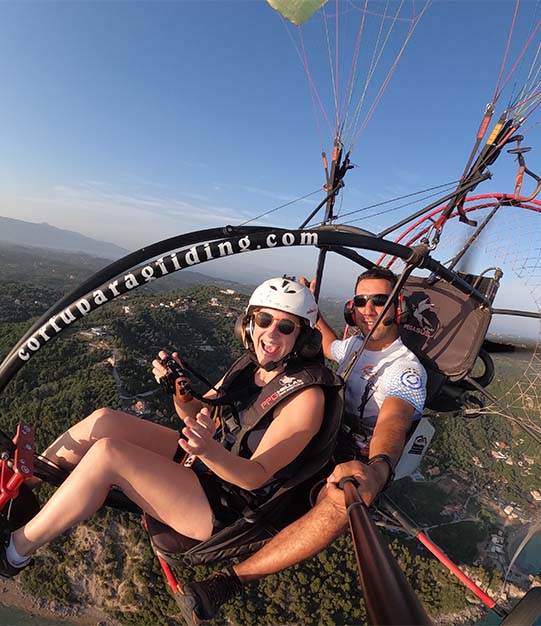 ---
TRANSFER SERVICE
---
Paragliding in Corfu
---
If you dont have a car you dont have to worry how to come to our location as the driver will wait for you until the flight is done and bring you back again. Transfer is avalaible with our van from your hotel and back only on request and is extra charge dependant on the location maximum 4 persons!!
---