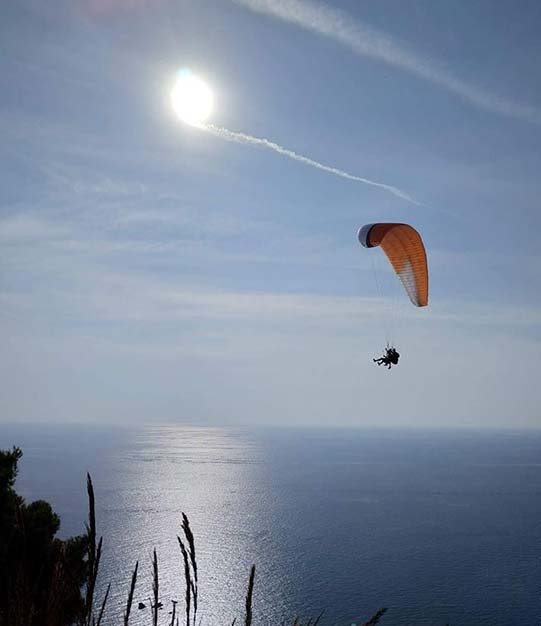 Tandem Flights
CORFU PARAGLIDING
---
Tandem paragliding flights involve a candidate students being securely strapped into a comfortable flying harness positioned in front of the pilot and connected to the pilot and the glider. The tandem glider is specially designed to carry two people and is nearly twice the size of a regular solo paraglider.
The paragliding flights last on average about 20 minutes, depending on the force of the wind and other flight conditions. Before your actual flight you will have a short briefing about the take-off and your flying seat position (comfortable as a recliner).
You'll also practice taking off before you're actually ready to fly. the team is made up of very experienced pilots who are certified the flight is filming with gopro camera hero5 and after the flight you take the sd card with you!
Tandem flights Corfu
NOTES & REQUIREMENTS
---
As this activity is very dependent on the weather, please make sure you contact your instructor to confirm your flight 2 days before the event, to ensure the weather will be suitable to do it.
Please note for safety reasons, you must not weigh more than 120 kg.
Don't forget to bring:
Bottled water and snack.
Trekking or sports shoes.
Sun cream and sunglasses.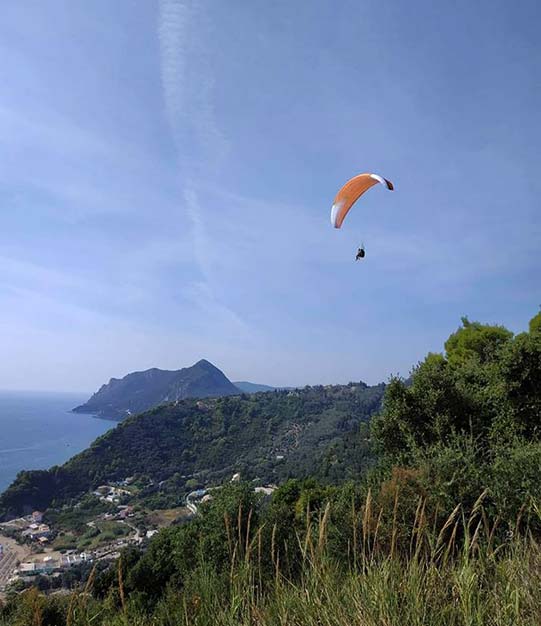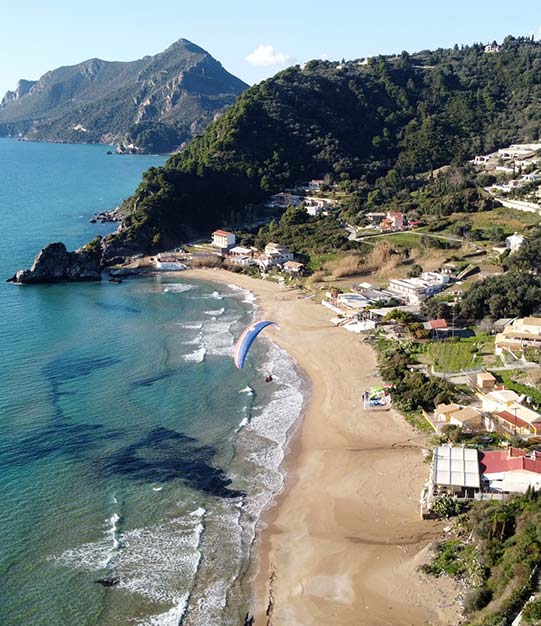 ABOUT CORFU
---
Corfu is one of the seven islands ("Eptanisa" in Greek) of the Ionian sea, located N/W of Greece. It has been one of the most known and famous holiday destinations for many decades. There are several reasons for that:
The superb architecture of the old Kerkyra town with the Venetian influence.
The green landscape and the traditional little villages that remain umspoiled by tourism.
The beautiful sandy and pebble beaches with clear water, many of those been blue-flag awarded.
And of course, the friendly and hospitable Corfiots all over the island, kind and helpful to everyone in need.
All the above, have given Corfu its reputation, making it one of the most favorite places to visit. Sights like the Achilleion, the Old and the New fortresses, Espianada square and the Liston are recognizable all over Europe. As a result, thousands of tourists visit the island of Kerkira every year and return home with the best of memories.
ABOUT THE PILOT
---
He is a local pilot from Corfu with passion for flying he has hundreds of hours in the air he started paragliding at 2006 when he was 18,after few years he started going to competitions for many years around Greece and abroad as he was a part of the national team the last 3 years he does tandem paragliding.